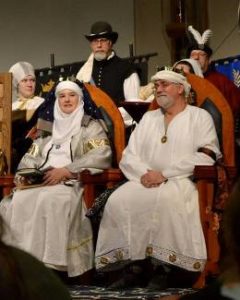 Baron Geoffrey | Jeff Schmitz
baron@nordskogen.org
Sitt al-Thullaja | Julia May
baroness@nordskogen.org
Photo by Meta Peterson
Chamberlains to The Baron and Baroness
Angelina Nicollette de Beaumont | Karen Allen
Azizah bint Da'ud | Ziz Quinn-Davis
chamberlain@nordskogen.org
Baronial Champions
Bard of Nordskogen: Orlaith Ballach Inghean Fhlain
Armored Combat Champion: Helmut Strauss
Rapier Champion: Just von Stichem
Cut & Thrust Champion: Kolfinna Hrafnkelsdottir
Archery Champion: Viði Hovdestad
Arts and Sciences Champion: Muirenn ingen Fhairchellaig
Cooking Champion: Lewke verch Gwilim
Missives
October 2016
September 2016
August 2016
July 2016
June 2016
May 2016
October A.S. 51
Greetings to our frost-ready populace of Nordleigh, Blachemere, and Nordskogen—
So much joy has befallen us this month. Our own Master Yehudah was Crowned as Khagen of Northshield alongside Hrodir Bek in a much celebrated Coronation ceremony. In Their wisdom, They have seen fit to invite the Honorable Lady Sefa Farmansdottir to the Order of the Pelican, at an event to be named shortly. Also at Coronation, Coquette du Lyons was made a Baroness of the Court of Rhys and Gwenhwyvar, and Jane Waye and Kolfinna Hrafnkelsdottir were made Baronesses of the Court of Hrodir and Yehudah. Further, near and dear to Samia's heart, Claudine delaTour was made a member of the Order of the Pyxis. Finally, a few other recognitions of Baronial members were given over to Our safekeeping at Coronation, which we hope to recognize at our Baronial Fall Archery Moot on October 9th.
We have had the joy of seeing a well-attended revival of youth armored combat this fall, and Lord Ulf inn hugprúði has planned these activities every other Tuesday at Brackett Park. Lady Gwenllian verch Rhys de Goer ran a lovely recruiting demo in Blachemere mid-month. It featured arts peaceful and martial for guests to ask questions of.  Maestra Giovanna di Battista da Firenze coordinated demo activities in support of the Caponi Art Park in Nordleigh at the end of the month.  At Caponi, the modern world got to see many of the activities that we do including Armored and Rapier combat and a large cross section of the Arts and Sciences that we study. We would like to thank all of the individuals who volunteered their time and energy to support both of demos. Additionally, Lady Kate of the Mallow Marsh has joyfully invited all to an accessory making challenge, with the goal of creating a period accessory every two months in year 2017.
This month, Duchess Petranella Fitzallen of Weston leads a team of volunteers in hosting Crown Tournament, where two couples from Nordskogen join an honorable body of worthies who will seek to become heirs to the Stellar Thrones. Volunteers are still sought in the well-lauded roles of clean-up help.
The Sunday following Crown, We will be hosting the Baronial Fall Archery Moot. Activities will begin early so that our fellows in the Kingdom might also loose arrows in fellowship with the Nordskogen archers. We will be selecting Our Archery Champion, Cooking Champion, and Arts and Sciences Champion at this activity. Fair weather will see Us at the Marsh Lake Archery Range, where We seek volunteers to assist Us in erecting the Baronial Pavilion. Challenging weather will see Us at Bwana Archery Range in Little Canada for the morning, and the Geek Partnership Society in the afternoon for food and arts displays.
Looking further ahead, the Canton of Blachemere will be hosting Fighter's Retreat on November 19th at the same location as Crown Tourney.
Tell Us about your joys when you see Us.
In loving service,
Baron Geoffrey and Sitt al-Thullaja
September A.S. 51
Unto the Flaky Populace, we bear Greetings;
We were exceptionally pleased with the Pas d'Armes hosted by Our Cantons of Blachemere and Nordleigh. The day's events went well even with Mother Nature's attempts to shower us with her blessings. Thank you to each of the volunteers who made the event happen. We are delighted to announce that Strauss joins our team as Armored Combat Champion based on his skills displayed at the Pas.
In September history is happening in Northshield. The newly crowned sovereigns will be the first same-sex couple to serve a Kingdom in the SCA. Please feel free to use the public discussion lists to seek travel partners for this and other events. We encourage all who attend to consider assisting the Shire of Border Downs by volunteering some of your time. The members of Border Downs are mighty, but we wish not to wear them thin with supporting such a large number of visitors.
The very next month the Barony will host the Crown Tournament of Northshield on October 8. Volunteer requests will be posted to the website shortly; please consider donating some of your time to support events in our great Barony.
You will be pleased to know we have a backup plan for the Fall Moot. Our Fall Folkmoot will be on October 9, beginning at 10 a.m. Ideally, the weather will be beautiful, and we will enjoy a grand day at the Marsh Lake Archery Range in Bloomington. The day will involve selecting a new Archery Champion, a new Arts and Sciences Champion, and a new Cooking Champion. If the weather sweeps us indoors, we will begin the day at Bwana Archery Range in Little Canada, and continue the merriment at the Geek Partnership Society to visit with our artisans and cooks.
Serving with Joy,
Baron Geoffrey and Baroness Samia
August A.S. 51
Greetings to our Fabulously Flaky Populace,
At our Folkmoot at Brackett Park, one of our own had an unexpected adventure. We were amazingly impressed with the impromptu volunteer efforts being coordinated without undue excitement. The two of us could attend to the needs of newer participants, and were kept abreast on the adventure.
We were further proud to see our people serving as chatelaine-of-the-minute with all of the visitors we attracted. Approximately 80 folks in garb watching a tournament was quite a draw! Seneschal Niamh also circulated a "The SCA appreciates you" card, which was given to the Park staff.
This month we look forward to the Pas d'Armes in Nordleigh, co-hosted by the Cantons of Nordleigh and Blachemere. We will select Our Armored Champion at this noble tournament, with the assistance of the collected gentlepersons of the audience. The tournament is open to all armored combatants attending the event, and any participants may choose to also compete for the title of Baronial Champion. Members of the Barony may joyfully participate, whether or not they chose to compete for title of Baronial Champion.
Our upcoming Folkmoots will be in the fall, selecting our Archery, Cooking, and Arts & Sciences champions; and in the Winter with our Toys for Tots Tournament. We seek assistance with the coordination of each of these activities.
In loving service,
Baron Geoffrey and Sitt al-Thullaja
July A.S. 51
Greetings to Our Flaky Populace.
We hope you have had a great Warriors and Warlords event! Whether you shot archery, celebrated Crispin's elevation, fought on the battlefields with honor, shopped to your heart's (or wallet's) content, or learned all the geeky things from the great class offerings, We are glad you joined all of us.
Our Spring Folk Moot has been postponed to July 19 (rain back-up July 26), at Brackett Park in Minneapolis. There will be an armored combat tournament, plus fencing, dancing, and a pot luck. Please bring an ingredients list, or the original packaging for purchased foods. If it's food you'd like to share, it is welcome at our table.
Looking ahead, we are planning on a Late Summer Folk Moot on a Sunday with the archers (seeking a volunteer to steward this activity) where we also hope to hold a tournament to determine our new Archer Champion. Looking even further ahead, We would like to start work on our Toys for Tots Tourney in December. Please let our Seneschal Niamh know of your interest in helping with either or both activities.
In loving service, Baron Geoffrey and Sitt al-Thullaja
June A.S. 51
Greetings to the good people of Nordskogen, Nordleigh, and Blachemere.
We hope our missive finds you well and dry in this rainy spring. We find comfort knowing that the rains feed our shade trees and cool grasses as we continue into the camping season.
Those who were able to join Baron Geoffrey at our Kingdom's Crown Tournament certainly have stories worthy of sharing! Many will be pleased to know that Prince Yehudah is a member of our Canton of Nordleigh. In addition, wordfame and honor were brought to Nordskogen by THL Refkell Melrakki Einarsson and THL Jeahanette de Provins as they competed, and by many members of the Nordskogen fencing community while they served as marshals for the Tournament.
We and our Cousins Baron Robert and Baroness Leona are pleased to invite you to the summer extravaganza Warriors and Warlords (WW) in July.
Master Vidi has been working mightily on Our behalf to prepare a new camping location for all of the Barony of Nordskogen and our guests at WW. We will be near the battlefields and the new shower locations. All are welcome to camp with Us. We will have the Nordskogen Pavilion with us this year, and all should feel welcome to join Us in our Baronial "living room" for a cool sip of water or a moment of respite.
On Tuesday, June 14, we will be joining the Armored Practice at Brackett Park in Minneapolis for a Moot. Garb is welcome, and We plan to have awards and recognition's for some of our populace.
This Fall we plan to have a Sunday Moot with the Archery community. We will also select our Arts and Sciences champion based on the completion of a UFO, or Un-Finished Object. Our Champion Lord Bazyli will provide more details shortly.
What has someone done which made your SCA experience more fun this year?
In loving service,
Baron Geoffrey and Sitt al-Thullaja
May A.S. 51
Greetings to Nordleigh, Blachemere, and greater Nordskogen from the Baron and Baroness.
Inspiration abounds in spring, doesn't it? Being in the lands of Snowflakes, we have the joy of seeing the first blush of green on damp branches, of hearing the first robins returning to our skies, of seeing the creeks come alive with gurgles and giggles over the rocks and branches. The warmth of the sun no longer comes with the sting of the wind. The smells of apple blossoms and lilacs call to us from our chores.
We ask that you share your stories, your warmth, your inspiration. When you find that inspiration in the people of the Barony, will you share it with us? Tell us what deeds, what arts, what prowess inspire you in Our populace. Tell us what you love about the contributions and tales of others. Tell us how we can recognize those around you.
We look forward to seeing you at our Folk Moot on Tuesday, June 14 at Brackett Park in Minneapolis (address available on the Nordskogen website). Bathrooms will be available. Please bring chairs, finger foods, and laughter. Garb is welcomed but not required. We will support our Armored Combat community, and our Youth Combat community. Plenty of space will be available for our fencing community as well.
We would like to give awards to members of Our populace at this Folk Moot. Please write to us about your fellows.
In service, Geoffrey and Samia
Save
Save
Save
Save
Save
Save
Save